CELLnTEC 2D and 3D Cell Systems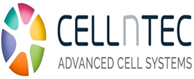 CELLnTEC specializes in the development of innovative culture media, 2D and 3D in vitro models, using the most recent insights into epithelial cell biology. CELLnTEC's precision media for primary epithelial cell culture are specifically designed to mimic the precise micro-environments cells experience in vivo. CELLnTEC currently has long-term guaranteed cell systems and support medium available from a range of human and animal species.
To LEARN MORE about the improvements and Cellntech Protocols.
Cellntec Cells Systems
Media
Item#
Item Desc
Note
U/M
Price
CnT-PR
CnT-Prime Epithelial Proliferation Medium (Epidermal, Corneal, Oral, Mammary and Bladder Epithelia)
Human/Mouse
500 mL (frozen)
$174.00
CnT-07
PCT Epidermal Keratinocyte Medium, Defined
Mouse
500mL KIT
$192.00
CnT-57
PCT Epidermal Keratinocyte Medium, Low BPE
Human/Mouse
500mL KIT
$158.00
CnT-09
Epidermal Keratinocyte Medium (Basal Medium+ Growth Supplement)
Dog
500mL kit
$143.00
CnT-PR-D
CnT-Prime Epithelial Culture Medium, 2D Differentiation. (Epidermal, Corneal, Oral, Mammary & Bladder Epithelia).+ (Made to order-4 week lead time)
Human/Mouse
500mL (frozen)
$163.00
CnT-PR-CA
CnT-Prime Epithelial Proliferation Medium, Calcium-Free (Epidermal, Corneal, Oral, Mammary & Bladder Epithelia)Custom order only, minimum order quantity of 10 bottles, 10 week lead time
Human/Mouse
500 mL (frozen)
Inquire
CnT-PR-FTAL5
CnT- Prime Full Thickness 3D Skin Airlift Medium
Human
500ml (frozen)
$253.00
CnT-PR-3D
CnT-Prime 3D Barrier Media for 3D Epidermal Models
Human/Mouse
500mL (frozen)
$256.00
CnT-PR-BM.1
CnT-Prime Basal Medium (Growth Factor FREE)
Human/Mouse
500mL (frozen)
$85.00
CnT-PR-CC
CnT-Prime Epithelial/Stromal Co-Culture 2D Medium, Fully Defined (for keratinocytes and fibroblasts)
Human/Mouse
500mL (frozen)
$215.00
CnT-PR-F
CnT-Prime Fibroblast Medium (Low serum)
Human/Mouse
500 mL (frozen)
$178.00
CNT-PR-F-HC
CnT-Prime Fibroblast Medium (without serum), Higher Certified, 500ml, FROZEN
500ml frozen
$259.00
CnT-PR-ECM
CnT-Prime Extra Cellular Matrix (ECM) Production Medium.+ (Made to order-4 week lead time)
Human/Mouse
500 mL (frozen)
$189.00
CnT-17
PCT Airway Epithelium Medium, Defined (Small and Large Airway),
Human/Mouse
500mL KIT
$224.00
CnT-PR-A
CnT-Prime Airway Epithelium Proliferation Medium
Human
500 mL (frozen)
$173.00
CnT-PR-AD
CnT-Prime Airway Epithelium Differentiation Medium.+ (Made to order-4 week lead time). (Made to order-4 week lead time)
Human
500 mL (frozen)
$186.00
CnT-AG2
VitroAge Keratinocyte Aging Medium, Custom order only, minimum order quantity, 10 week lead time
Human
500 mL (frozen)
Inquire
CnT-40
Melanocyte Medium (Complete), FROZEN
Human
500 mL kit
$180.00
CnT-40-HC
CnT-40 Melanocyte Proliferation Medium w/o Serum, HIGHER CERTIFIED, 500ml FROZEN
Specifically designed for selective isolation and rapid expansion of primary epidermal melanocytes. It is ideally suited for use during product development, protocol validation, and characterization of the cell-based product.
500 mL (frozen)
$261.00
CnT-PR-KM
CnT-Prime KM, Keratinocyte/Melanocyte Co-Culture Medium, 250ml (frozen)
(HUMAN).+ (Made to order-4 week lead time)
Human
250ml (frozen)
$189.00
CnT-PR-MD
CnT-Prime Melanocyte Differentiation Medium.+ (Made to order-4 week lead time)
Human
250 mL (frozen)
$189.00
CnT-PR-MH
CnT-Prime Melanocyte Homeostasis Medium. (Made to order-4 week lead time)
Human
250 mL (frozen)
$207.00
CnT-XP3
XP3 Biopsy Maintenance Medium, 250ml (FROZEN).+ (Made to order-4 week lead time)
Human/Mouse
250 mL (frozen)
$85.00
CnT-PR-H
CnT-Prime Keratinocyte Homeostasis Medium

Designed for maintenance of primary human keratinocytes in a homeostatic state with only minimal growth factor stimuli, sufficient to maintain their function for up to a week in culture. It is a fully defined medium.+ (Made to order-4 week lead time)
Human
500 mL (frozen)
$207.00
CnT-PR-FH
CnT-Prime Fibroblast Homeostasis Medium

The CnT-PR-FH medium is designed for maintenance of primary human dermal fibroblasts in a homeostatic state with only minimal growth factor stimulii, sufficient to maintain their function for up to a week in culture. It is a fully defined medium.+ (Made to order-4 week lead time)
Human
500 mL (frozen)
$207.00
CnT-30
CnT-Prime iPS Epithelial Differentiation Medium.

CnT-30 is a fully defined medium for for differentiation of human iPS and ES cells down corneal and epidermal epithelial lineages.
Human
500mL KIT
$358.00
CnT-30-HC
CnT-Prime iPS Epithelial Differentiation Medium, HIGHER CERTIFIED

CnT-30 is a fully defined medium for for differentiation of human iPS and ES cells down corneal and epidermal epithelial lineages.
500mL kit
$456.00
CnT-PR-EF
CnT-Prime iPSC Corneal Differentiation Medium, Defined, Animal Component Free, 500ml Complete (HUMAN)
Human/Mouse
500ml (frozen)
$207.00
CnT-PR-MSC
CnT-Prime Mesenchymal Stem Cell Growth Medium (MSC), 500ml FROZEN, (HUMAN).+ (Made to order-4 week lead time)
Human
500ml (frozen)
$304.00
CnT-PR-MSC-XF
CnT-Prime Mesenchymal Stem Cell (MSC) Growth Medium, Xeno-Free, (HUMAN). (Made to order-4 week lead time)
Human
500ml (frozen)
$349.00
CnT-MSCDIFF-AD.S
Adipogenic Differentiation Supplement, 2x1.0ml (FROZEN)- (HUMAN)
Human
2x1.0ml(frozen)
$130.00
CnT-ENDO
CnT-Endothelium Growth Medium (FROZEN)-(HUMAN) (Made to order-4 week lead time)
Human
500ml (frozen)
$249.00
2D Co-culture Starter Kits
Item#
Item Desc
Note
U/M
Price
PR2D-CC
Keratinocyte/Fibroblast 2D Co-culture Starter Kit
PR2D-CC is a kit consisting of:
1 x HPEKp: Human Epidermal Keratinocyte Progenitors > 5 x 105 viable cells per vial (1 mL)
1 x HDFp: Human Dermal Fibroblasts> 5 x 105 viable cells per vial (1 mL)
1 x CnT-PR: 500 mL CnT-Prime Epithelial Culture Medium
1 x CnT-PR-F: 500 mL CnT-Prime Fibroblast Proliferation Medium
1 x CnT-PR-CC: 500 mL Epithelial/Stromal Co-culture Medium
Human
Kit
$1728.00
PR2D-KM
Keratinocyte/Melanocyte 2D Co-culture Starter Kit
PR2D-KM is a kit consisting of:
1 x HPEKp: Human Epidermal Keratinocyte Progenitors > 5 x 105 viable cells per vial (1 mL)
1 x HEMas: Human Epidermal Melanocytes> 5 x 105 viable cells per vial (1 mL)
1 x CnT-PR: 500 mL CnT-Prime Epithelial Culture Medium
1 x CnT-40: 500 mL CnT-Prime Melanocyte Culture Medium
1 x CnT-PR-CC: 500 mL Keratinocyte/Melanocyte Co-culture Medium
Human
Kit
$2012.00
3D Epidermal Starter Kits
Item#
Item Desc
Note
U/M
Price
PR3D-HPEK-50
3D Keratinocyte Starter Kit 50 (incl. Primary Human Keratinocytes, 48 inserts, CnT-PR and CnT-PRD Media)
Human
KIT
$1678.00
PR3D-K-50
3D Keratinocyte Starter Kit 50 (incl. 48 inserts, CnT-PR and CnT-PRD Media)-NO cells
Human
KIT
$921.00
PRFT-24
3D Full Thickness Skin Starter Kit, NO cells. Includes:
1 x CnT-PR (500 mL)
1 x CnT-PR-F (500 mL)
1 x CnT-PR-FTAL5 (550 mL)
1 x CnT-SP Spacer Plate and 24 x FT inserts
Human
KIT
$981.00
PRFT-CELLS-24
3D Full Thickness Skin Starter Kit w/Cells. Includes:
1 x CnT-PR (500 mL)
1 x CnT-PR-F (500 mL)
1 x CnT-PR-FTAL5 (500 mL)
1 x HPEKp (neonatal keratinocytes)
1 x HDFp (neonatal dermal fibroblasts)
1 x CnT-SP Spacer Plate and 24 x FT inserts
Human
KIT
$2198.00
CnT-SP
Spacer Plate, 12-well, reusable
EACH
$47.00
Primary Epidermal Cells
| Item# | Item Desc | Note | U/M | Price |
| --- | --- | --- | --- | --- |
| HPEKp | Epidermal Keratinocyte Progenitors, Pooled, 0.5 million cells/vial | Human | Vial | $841.00 |
| HPEKs | Epidermal Keratinocyte Progenitors, Single Donor 0.5 million cells/vial | Human | Vial | $812.00 |
| HPEKas | Epidermal Keratinocyte Progenitors, Single Adult Donor 0.5 million cells/vial | Human | Vial | $830.00 |
| CnT-FT-CELLS | HPEKs Keratinocytes and HDFs Fibroblasts VALUE PACK (2 vials), 0.5 million cells/vial | Human | 2 Vials | $1217.00 |
| HCEP | Corneal Epithelium Progenitors 0.5 million cells/vial | Human | Vial | $1196.00 |
| HDFs | Dermal Fibroblasts, Single Donor 0.5 million cells/vial | Human-Neonate | Vial | $603.00 |
| HDFp | Dermal Fibroblasts, Pooled 0.5 million cells/vial | Human-Neonate | Vial | $511.00 |
| HDFas | Dermal Fibroblasts, Single ADULT Donor 0.5 million cells/vial | | Vial | $603.00 |
| HDFap | Dermal Fibroblasts, Pooled ADULT Donor 0.5 million cells/vial | Human | Vial | $511.00 |
| HDPs | Dermal Progenitors, Single Donor 0.5 million cells/vial | Human-Neonate | Vial | $1205.00 |
| HGEPp | Gingival Epithelium Progenitors, Pooled 0.5 million cells/vial | | Vial | $1202.00 |
| HGEPs | Gingival Epithelium Progenitors, Single Donor 0.5 million cells/vial | | Vial | $1257.00 |
| HEMas | Epidermal Melanocytes, Adult, Single donor 0.5 million cells/vial | Human | Vial | $850.00 |
| HEMns | Epidermal Melanocytes, Juvenile, Single donor 0.5 million cells/vial | Human | Vial | $850.00 |
Long-Term Cells
| Item# | Item Desc | Note | U/M | Price |
| --- | --- | --- | --- | --- |
| DF-BALBC | Dermal Fibroblasts 0.5 million cells/vial+ Discontinued. Inventory may still be available | Mouse | Cell Vial | $490.00 |
| MPEK-BL6 | Epidermal Keratinocyte Progenitors, Mouse BL6,+ 0.5 million cells/vial | Mouse | Vial | $944.00 |
| MPEK-129 | Epidermal Keratinocyte Progenitors 0.5 million cells/vialDISCONTINUED.Inventory may still be available-Inquire | Mouse | Vial | $490.00 |
| CPEK | Epidermal Keratinocyte Progenitors 0.5 million cells/vial | Canine | Vial | $944.00 |
| HBLAK | Human Bladder Epithelium Progenitors, spontaneously immortalized, 0.5 million cells/vial | Human | Vial | $944.00 |
CELLnTEC's long-term cells are spontaneously transformed cells that provide the convenience of long-term cell growth without senescence.

These cells have been isolated from normal tissue and have not been actively transformed.

Long-Term cells are provided at approx passage 25, and come with a guarantee of at least 6 months of growth post delivery
Reagents
| Item# | Item Desc | Note | U/M | Price |
| --- | --- | --- | --- | --- |
| CnT-ABM10 | Pen-Strep / Amphotericin B Solution, (250x), Ready-to-Use Single Aliquots | Multi Species | 10 x 2.0 mL | $33.00 |
| CnT-GAB10 | Gentamycin / Amphotericin B Solution, (500x), Ready-to-Use Single Aliquots | Multi Species | 10 x 1.0 mL | $67.00 |
| CnT-ST-100 | Stain Kit, incl. Solution I and Solution II | Multi Species | 2 x 50 mL | $74.00 |
| CnT-Accutase-100 | Accutase Cell Detachment Solution | Multi Species | 100 mL | $47.00 |
| CnT-CRYO-50 | CRYO Defined, Animal Component Free Freezing Medium | Multi Species | 50 mL | $108.00 |
| CnT-DNP-10 | Dispase II, Neutral Protease, Cell-culture optimized, 5 x 100 mg powder aliquots. Each 100 mg makes 40 mL of 1x solution (2.4U/ml) | Multi Species | 5 x 100 mg | $153.00 |
| CnT-ISO-50 | CnT-IsoBoost, Isolation Boosting Supplement, recommended for any keratinocyte isolation from tissue, (1000x) | | 50ul | $104.00 |
Discount Packs
| Item# | Item Desc | Note | U/M | Price |
| --- | --- | --- | --- | --- |
| OrderSmartx4 | 10% discount applied to all media AND any reagents for orders containing 4 bottles (reference this code when placing your order) | | | |
| OrderSmartx6 | 12% Discount applied to all media AND any reagents for orders containing 6 bottles (reference this code when placing your order) | | | |
| OrderSmartx3 | 14% discount applied to all cells for orders containing 3 vials (reference this code when placing your order) | | | |