ZenBio offers research partners a unique "cells and services" model delivering robust cell-based solutions to accelerate the discovery and development of therapies to better the human condition.
We've expanded our portfolio for global partners in both biomedical research and cosmetics and personal care to include:
ZenComplete™ and ZenSkin™ research solutions platforms
Human cell-based products
Contract research services for outsourcing key projects
Cell-based assay development and custom consultations
Individualized screening programs (cell-based or biochemical)
Cell characterization and molecular biology services


We invite you to experience our commitment to advancing your projects, reducing costs, and managing resources to make great discoveries. Contact ZenBio to see the difference.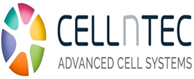 ZenBio is proud to be the strategic North American distribution partner for CELLnTEC Advanced Cell Systems, leaders in epithelial progenitor cell targeted in vitro culture tools. more..
ZenBio's contract assay services combine the expertise of our scientists with our validated cultured human adipocyte system. We offer a variety of assays to test compounds for potential as diabetes and obesity therapies.