ZenComplete™: Oxygen Consumption Rate Analysis
ZenBio offers a cell-based high throughput assay to determine mitochondrial function by measuring oxygen consumption rate (OCR). The assay is performed using the MitoXpress® Xtra technology developed by Luxcel® Biosciences. This platform offers the capability to perform simultaneous OCR measurements in all 96 wells of a microtiter plate, including performing dose response studies of test compounds for their effects on mitochondrial activity. The fluorescence signal of the cell impermeant oxygen sensitive MitoXpress® dye is measured over time using a highly sensitive dual-read time resolved fluorescence (lifetime) method.
Description: High throughput cell-based assay for measuring mitochondrial function (dysfunction) via oxygen consumption rates.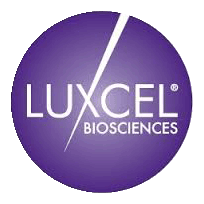 Assay: MitoXpress® Xtra (Luxcel® Biosciences)
Format: 96-well plates
Measurement: Time Resolved Fluorescence (Lifetime)
Cells: Primary cells and cell lines; adipocytes, skeletal muscle cells, hepatocytes, etc.
Using the MitoXpress® Xtra assay, we can rapidly measure the main components of mitochondrial function: basal respiration, ATP turnover, maximal respiration capacity and proton leak. The following example uses ZenBio's human primary cultured adipocytes: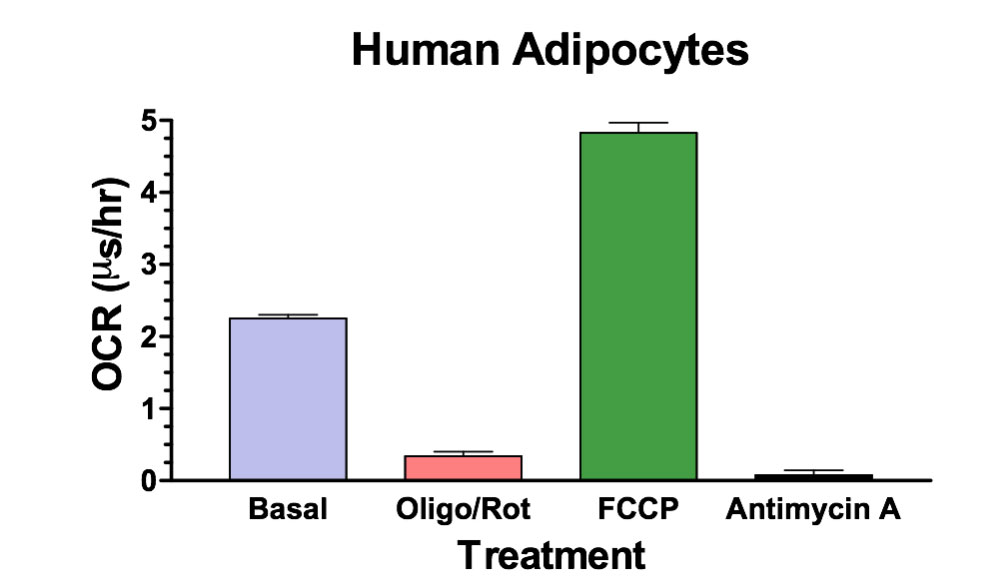 Figure 1. Human cultured adipocytes in a 96-well plate were analyzed for effects on OCR using MitoXpress® Xtra. The fundamental components of mitochondrial function were measured: Basal respiration rate, ATP turnover (1 µM Oligomycin/Rotenone), maximal respiration capacity (1 µM FCCP) and proton leak (0.2 µM Antimycin A).
The OCR assay is performed by monitoring MitoXpress® Xtra fluorescence using a dual-read TR-F (lifetime) measurement. This enables the measurement of the fluorescence decay rate of the MitoXpress® probe, which is more stable and has a wider dynamic range that simply measuring signal intensity. Below is an example of the type of lifetime data that is collected to determine OCR in ZenBio's human cultured adipocytes.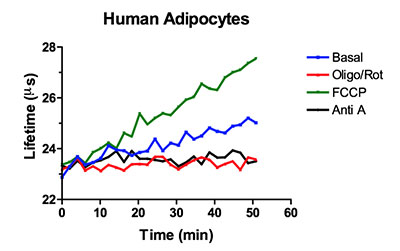 Figure 2. The TRF lifetime profiles for human adipocytes cultured in a 96-well plate treated with nothing (basal), 1 µM oligomycin/rotinone, 1 µM FCCP or 0.2 µM antimycin A. Lifetime profiles are used to determine the OCR for each treatment.
Cell Lines
Intact or permeabilized cell lines can easily be used to screen for compound effects on mitochondrial function. The example below demonstrates the requirement for a plasma membrane transporter (hOCT1) to enable metformin to enter HEK293 cells and inhibit mitochondrial function. The assay was performed using 60,000 cells per well in 96-well plates and triplicate treatments. Metformin displays an inhibitory EC50 of 240 nM in the presence of the hOCT1 transporter and is inactive in its absence.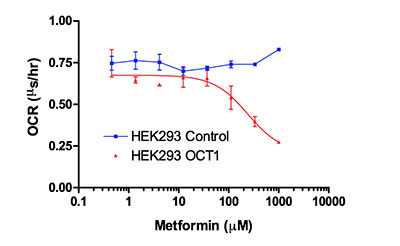 Figure 3. HEK293 cells transfected with a control vector or one expressing hOCT1 were used to screen the effects of metformin on OCR. Cells were seeded in 96-well plates and treated with increasing concentrations of metformin using MitoXpress® Xtra to measure OCR. Metformin effectively inhibits mitochondrial function when its plasma membrane transporter (OCT1) is present.
In addition, cells can be permeabilized to measure mitochondrial activity without the need of specific transport mechanisms. HEK293 cells can be permeabilized with saponin and provided with substrates for the mitochondrial complexes to measure the effects of compounds directly on mitochondria function. Isolated mitochondria can also be used for these assays.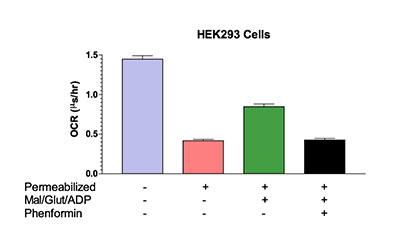 Figure 4. HEK293 cells cultured in 96-well plates can be permeabilized with saponin to measure direct mitochondrial effects of compounds. Malate, glutamate and ADP are provided as substrates for mitochondrial complexes and OCR was determined by MitoXpress® Xtra.
ZenComplete™: Oxygen Consumption Rate Analysis
| Item# | Item Desc | U/M | Cost |
| --- | --- | --- | --- |
| CA-81 | Oxygen Consumption Rate Assay | Assay | Contact Us |
Prices for contract services vary depending on number of sample numbers, special conditions, compound solubility, etc. Minimum charges will apply. Please contact us for detailed information and a price quote on your project.
To learn more about our services, please contact our Services Team