ZenComplete™: Protein Secretion
A growing family of adipo-cytokines have been shown to play critical roles in the etiology of obesity and type II diabetes. ZenBio offers an adiponectin assay and a multiplexed assay to measure some of these important adipokines.
Adiponectin Secretion
The development of non-insulin dependent (Type 2) diabetes may involve dysregulation of adiponectin secretion. Supporting the link between obesity and Type 2 diabetes, decreased adiponectin secretion correlates with insulin resistance. Additionally, adiponectin appears to be a potent insulin enhancer linking adipose tissue and whole body glucose metabolism. This assay measures adiponectin in either human serum or conditioned medium from the culture of human cells.
Figure 1 shows several analytes from cultured human preadipocytes, adipocytes, or adipocytes treated with Rosiglitazone. Data are expressed as pg/ml.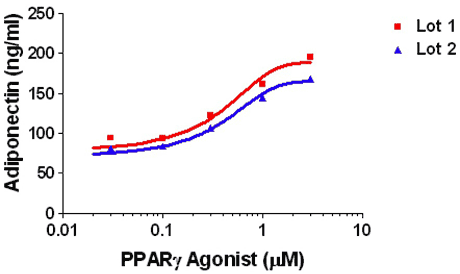 Adipokine Secretion
The following panel is available: IL-1., Il-6, IL-8, adiponectin, HGF, Leptin, MCP-1, PAI-1 (active), PAI-1 (total), Resistin, NGF and TNF.. Customers may almost any combination of adipokines. All analytes will be measured from the same well. The assay is done in duplicate in cultured human cells.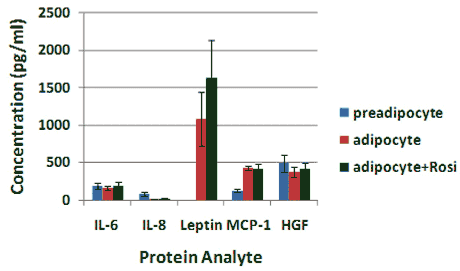 Ordering Information
| Item# | Item Desc | U/M | Price |
| --- | --- | --- | --- |
| CA-65 | Human Adipocyte Adiponectin Secretion Assay | Assay | Call |
| CA-110 | Human Adipocyte Multiplex Adipokine Secretion Assay | Assay | Call |
To learn more about our services, please contact our Services Team