ZenComplete™: Glucose Uptake
Diabetes is a prevalent metabolic disease affecting more than 25 million Americans. About 90% to 95% of patients have non-insulin dependent diabetes mellitus (NIDDM) or type II diabetes. One of the hallmarks of type II diabetes is decreased sensitivity of muscle and adipose cells to insulin. Compounds that increase the sensitivity of adipose to insulin may be useful in the treatment of diabetes and its complications.
Upon insulin treatment, insulin receptor is phosphorylated which activates a signal transduction pathway leading to increased glucose uptake by glucose transporter 4 (GLUT4) in adipocytes (fat) or myocytes (muscle). Therefore, measuring glucose uptake provides the most relevant end point assay for insulin sensitivity.
Our assay uses 3H-2-deoxyglucose as the substrate for glut4. The measurement is conducted in a 96-well format with insulin (100 nM) as a positive control and Cytochalasin B (10µM) as a negative control. Samples are tested in triplicate.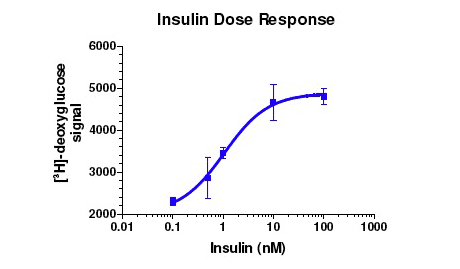 Ordering Information
To learn more about our services, please contact our Services Team