ORAC Antioxidant Assay Kit
Free radicals and reactive oxygen species (ROS) are highly reactive molecules that are generated by normal cellular processes, environmental stresses, and UV irradiation. ROS react with cellular components, damaging DNA, carbohydrates, proteins, and lipids causing cellular and tissue injury. Excess production of reactive oxygen species can also lead to inflammation, premature aging disorders, and several disease states, including cancer, diabetes, and atherosclerosis. Organisms have developed complex antioxidant systems to protect themselves from oxidative stress, however, excess ROS can overwhelm the systems and cause severe damage.
The ZenBio ORAC (Oxygen Radical Absorbance Capacity) Antioxidant Assay Kit can be used to determine the total antioxidant capacity of biological fluids, cells, and tissue. It can also be used to assay the antioxidant activity of naturally occurring or synthetic compounds for use as dietary supplements, topical protection, and therapeutics. The assay measures the loss of fluorescein fluorescence over time due to peroxyl-radical formation by the breakdown of AAPH (2,2'-azobis-2-methyl-propanimidamide, dihydrochloride). Trolox [6-Hydroxy-2,5,7,8-tetramethylchroman-2-carboxylic acid], a water soluble vitamin E analog, serves as a positive control inhibiting fluorescein decay in a dose dependent manner. The ORAC assay is a kinetic assay measuring fluroescein decay and antioxidant protection over time. The antioxidant activity in biological fluids, cells, tissues, and natural extracts can be normalized to equivalent Trolox units to quantify the composite antioxidant activity present. This assay measures antioxidant activity by hydrogen atom transfer and when combined with ZenBio's ABTS antioxidant assay kit, provides a comprehensive analysis of a test sample's antioxidant activity.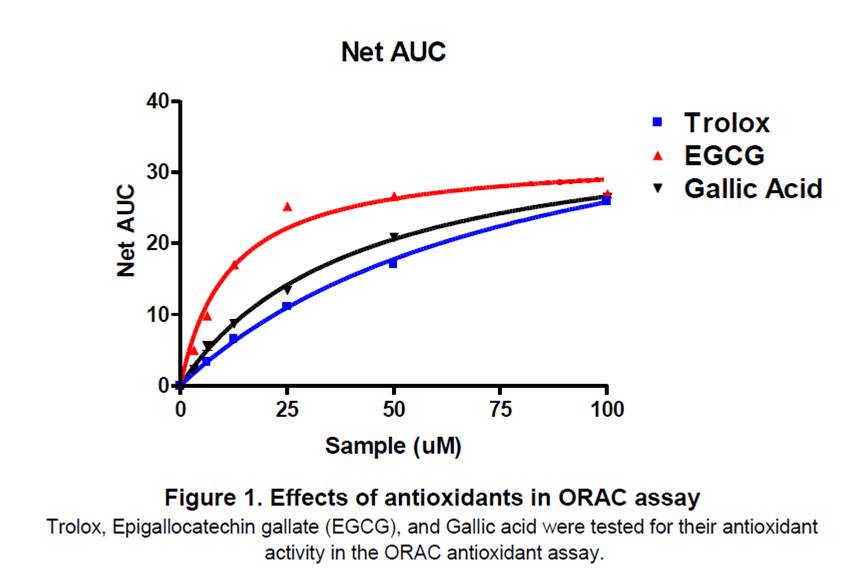 Ordering Information
| Item# | Item Desc | U/M | Price |
| --- | --- | --- | --- |
| AOX-2 | ORAC Antioxidant Assay Kit | Kit | $208.00 |
| AOX-2RB | ORAC Antioxidant Assay Kit, BULK (5 plates) | Kit | $654.00 |
| TROLOX-STD | Trolox Standard, 1.5mM, 20ul | EACH | $35.00 |
To see ORAC Antioxidant Assay Kit Manual
Zen Kits – References
AOX-2
Oxygen Radical Absorbance Capacity (ORAC) assay used to measure oxidative stress in exercising human adults (Bloomer, Canale, Blankenship, & Fisher-Wellman, 2010).
Recent Publications:
View
.PDF
Antihypertensive Effect of Ethanolic Extract from Acanthopanax sessiliflorus Fruits and Quality Control of Active Compounds
In Ho Jung, Sung Eun Kim, Yeong-Geun Lee, Dae Hyun Kim, Haneul Kim, Geum-Soog Kim, Nam-In Baek, and Dae Young Lee
https://doi.org/10.1155/2018/5158243
Ethnic Food Perspective of North Dakota Common Emmer Wheat and Relevance for Health Benefits Targeting Type 2 Diabetes
Ashish Christopher, Dipayan Sarkar, Steve Zwinger, Kalidas Shetty
https://doi.org/10.1016/j.jef.2018.01.002
Broccoli (Brassica oleracea) Reduces Oxidative Damage to Pancreatic Tissue and Combats Hyperglycaemia in Diabetic Rats

Sithara SureshIdentified author, Mostafa Ibrahim Waly, Mohammad Shafiur Rahman, Nejib Guizani, Mohamed Abdullah Badar Al-Kindi, Halima Khalfan Ahmed Al-Issaei, Sultan Nasser Mohd Al-Maskari, Bader Rashid Said Al-Ruqaishi, Ahmed Al-Salami Preventive Nutrition and Food Science 22(4), 2017.12
Molecular photoprotection of human keratinocytes in vitro by the naturally occurring mycosporine-like amino acid (MAA) palythine
K. P. Lawrence, R. Gacesa, P. F. Long, A. R. Y
DOI: 10.1111/bjd.16125
Phenolics, antioxidants and color properties of aqueous pigmented plant extracts: Ardisia colorata var. elliptica, Clitoria ternatea, Garcinia mangostana and Syzygium cumini A.M. Siti Azima , A. Noriham, N. Manshoor
https://doi.org/10.1016/j.jff.2017.09.018
Malaysian stingless bee and Tualang honeys: A comparative characterization of total antioxidant capacity and phenolic profile using liquid chromatography-mass spec ... Yazan Ranneh, Faisal Ali, , Abdah Md Akim, Hasiah Abd Hamid, Huzwah Khazaai
https://doi.org/10.1016/j.lwt.2017.10.020
Phenolics, antioxidants and color properties of aqueous pigmented plant extracts: Ardisia colorata var. elliptica, Clitoria ternatea, Garcinia mangostana and Syzygium ... A.M. Siti Azimaa, A. Norihama, b, N. Manshoorc
https://doi.org/10.1016/j.jff.2017.09.018
Improving phenolic bioactive-linked anti-hyperglycemic functions of dark germinated barley sprouts (Hordeum vulgare L.) using seed elicitation strategy Ramnarain Ramakrishna, Dipayan Sarkar, Avani Manduri, Shreyas Ganesan Iyer, Kalidas Shetty
Journal of Food Science and Technology
Differences in the density of fungiform papillae and composition of saliva in patients with taste disorders compared to healthy controls U Walliczek-Dworschak F Schöps G Feron H Brignot A Hähner T Hummel
Chemical Senses, bjx054, https://doi.org/10.1093/chemse/bjx054
Understanding the release and metabolism of aroma compounds using micro-volume saliva samples by ex vivo approaches Carolina Muñoz-Gonz&acutea;lez, Gilles Feron, Marine Brul&acutee;, Francis Canon
https://doi.org/10.1016/j.foodchem.2017.07.060
Verifying Identities of Plant-Based Multivitamins Using Phytochemical Fingerprinting in Combination with Multiple Bioassays Yeni Lim, Yoon Hee Ahn, Jae Keun Yoo, Kyoung Sik Park, Oran Kwon
DOI https://doi.org/10.1007/s11130-017-0622-5
Phenolic Antioxidant-Linked Anti-Hyperglycemic Properties of Rye Cultivars Grown under Conventional and Organic Production Systems Lokesh K. Mishraa, Dipayan Sarkara, Steve Zwingerc, Kalidas Shetty
https://doi.org/10.1016/j.jcs.2017.06.002
Nephro-toxic effects of intraperitoneally injected EGCG in diabetic mice: involvement of oxidative stress, inflammation and apoptosis Nora O. Abdel Rasheed, Lamiaa A. Ahmed, Dalaal M. Abdallah & Bahia M. El-Sayeh
doi:10.1038/srep40617
Journal of Functional Foods Angela R. Hillman, Bryna C.R. Taylor (nee Chrismas), Diahnn Thompkins
Journal of Functional Foods 29 (2017) 185–192
Consumer Acceptance of a Polyphenolic Coffee Beverage Thuy Nguyen, Meredith Kuchera, Katie Smoot, Charles Diako, Beata Vixie, Carolyn F. Ross
DOI: 10.1111/1750-3841.13521
The relationship between examination-related academic stress, salivary antioxidant capacity and exercise patterns of final‐year Saudi dental students S. C. Pani, H. J. Al Khabbaz, S. H. Bin Enayeg and A. H. Bin Zouman
DOI: 10.1111/eje.12225
Comparison of antioxidant properties of different therapeutic albumin preparations Jean-Luc Plantier, Véronique Duretz, Véronique Devos, Rémi Urbain, Sylvie Jorieux
doi:10.1016/j.biologicals.2016.04.002
Quantitative Analysis of Hydrophilic and Lipophilic Antioxidant Components in Palm Puree Haswani Maisarah Mustafa , Noriham Abdullah, Zainon Mohd. Noor
Regional Conference on Science, Technology and Social Sciences (RCSTSS 2014)
Alpha-amylase, antioxidant, and anti-inflammatory activities of Eucheuma denticulatum (NL Burman) FS Collins and Hervey Vimala Balasubramaniam, June Chelyn Lee, Mohd Fairunizal Mohd Noh, Syahida Ahmad, Iain A. Brownlee, Amin Ismail
Journal of Applied Phycology
August 2015

Multi-omics profiling reveals that eating difficulties developed consecutively to artificial nutrition in the neonatal period are associated to specific saliva composition Martine Morzela, Eric Neyrauda, Héléne Brignota, Patrick Ducoroyd, Aline Jeannind, Géraldine Lucchid, Caroline Truntzerd, Cécile Canlete, Marie Tremblay-Francoe, Christophe Hirtzf, Ségoléne Gaillardg, Noël Perettih, Gilles Feron
doi:10.1016/j.jprot.2015.07.028
Effects of Brewing Conditions on the Antioxidant Capacity of Twenty-four Commercial Green Tea Varieties Erica Sharpea, b, Fang Huaa, Stephanie Schuckersa, Silvana Andreescua, Ryan Bradley
doi:10.1016/j.foodchem.2015.07.005
Remogliflozin Etabonate Improves Fatty Liver Disease in Diet-Induced Obese Male Mice Shigeru Nakano, Kenji Katsuno, Masayuki Isaji, Tatsuya Nagasawa, Benjamin Buehrer, Susan Walker, William O. Wilkison, Bentley Cheatham
Journal of Clinical and Experimental Hepatology
Bloomer et al.: A 21 day Daniel Fast improves selected biomarkers of antioxidant status and oxidative stress in men and women. Nutrition & Metabolism 2011 8:1
Effect of Ambrotose AO® on resting and exercise-induced antioxidant capacity and oxidative stress in healthy adults. Bloomer, Richard J, Canale, Robert E, Blankenship, Megan M, & Fisher-Wellman, Kelsey H 2010. Nutrition journal; 9: 49.
METHODS FOR DETERMINATION OF ANTIOXIDANT CAPACITY: A REVIEW Deepshikha Gupta Department of Chemistry, Amity Institute of Applied Sciences, Amity University Uttar Pradesh, Sector 125, Noida-20130, India IJPSR, 2015; Vol. 6(2): 546-566.