Lipid Accumulation Kits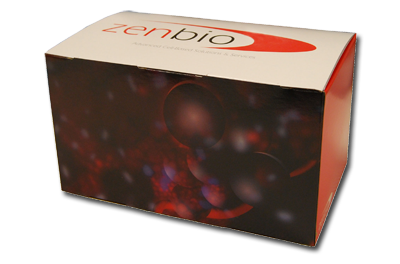 The Adipogenesis Assay kits provide the tools to study the compounds that stimulate cultured human adipocyte differentiation or lipogenesis. Such compounds may be PPARγ agonists or a combination of thiazolidinediones and glucocorticoids that are potentially useful in the treatment of diabetes. The kits are available to test potential PPARγ agonists or glucocorticoid analogs in human cells in a 96 well format.
The triglyceride assay kits provide quantitative data on triglyceride accumulation in cultured cells. This assay is suitable for both human and animal primary cells and cell lines. All kits are 96 well format. Contact ZenBio for information on other formats.
Ordering Information:
Metabolic Disease Research Kits
| Item# | Item Desc | U/M | Price |
| --- | --- | --- | --- |
| DIF-GLUC | Adipogenesis Assay Kit Glucocorticoid Analogues (REAGENTS+ CELLS) | KIT | $648.00 |
| DIF-GLUC-NC | Adipogenesis Kit Glucocorticoid Analogues (REAGENTS ONLY) | KIT | $359.00 |
| DIF-AG | Adipogenesis Assay Kit PPARγ agonist (REAGENTS+ CELLS) | KIT | $648.00 |
| DIF-AG-NC | Adipogenesis Assay Kit PPARγ agonist (REAGENTS ONLY), 100 point kit | KIT | $359.00 |
| DIF-AG-NC5 | Adipogenesis Assay Kit PPARγ agonist (REAGENTS ONLY), 500 point kit (BULK) | KIT | $1523.00 |
| STG-1-NC | Serum Triglyceride Assay Kit, 100 point assay (SINGLE PLATE) | KIT | $359.00 |
| TG-1-NC | Triglyceride assay kit, 100 point assay (SINGLE PLATE) | KIT | $359.00 |
| TG-5RB | Triglyceride assay kit (5 plate) | KIT | $1,591.00 |
| TG-GLYSTAN | Glycerol Standard for the triglyceride kits, 1mM | Each | $35.00 |
| ST-R100 | Lipid Staining Kit | KIT | $111.00 |
Recent Publications: ( 2008-2010 )
TG-1-NC
Triglyceride assay kit used in adipocyte differentiation study (Berry, Soltanian, & Noy, 2010).
Triglyceride assay kit used in microRNAs that control lipid droplet formation in hepatocytes study (Whittaker, et al., 2010).
Triglyceride assay kit used to measure triglycerides in primary human adipocytes (McDonough, et al., 2009).
Triglyceride assay kit used to measure triglycerides in human retinal pigment epithelial cells after siRNA-mediated knockdown of FABP5 (Wu, et al., 2010).
Triglyceride assay kit used to measure triglycerides differentiated human white adipocytes (Catalioto, Maggi, & Giuliani, 2009).
Human Adipocyte Differentiation Assay Kit ?? used to measure triglyceride produced during differentiation of mouse mesenchymal stem cells (D1 cells) (Xu, Gomillion, Maxson, & Burg, 2009).
Triglyceride kit used to measure triglycerides in hepatitis C infected livers (Kim, et al., 2008).
ST-R100
Lipid Staining Kit used to examine effects of PPAR-gamma on lipolysis in 3T3-LI cells (Tsukahara, Hanazawa, & Murakami-Murofushi, 2010).
Recent Publications:
View
.PDF
Co-Administration Of Conjugated Linoleic Acid And Rosiglitazone Increases Atherogenic Co-Efficicient And Alters Isoprenaline-Induced Vasodilatation In Rats Fed High Fat Diet
Boon Kheng Chai, Yeh Siang Lau, Bi Juin Loong, Mustafa Mohd Rais, Kang Nee Ting, Devi Murugan Dharmani, Mohankumar Suresh Kumar
Anti-Obesity Activity of Saringosterol Isolated from Sargassum muticum (Yendo) Fensholt Extract in 3T3-L1 Cells Jung A Lee, Young-Rak Cho, Seong Su Hong, Eun-Kyung Ahn
DOI: 10.1002/ptr.5892
Dedifferentiation into blastomere-like cancer stem cells via formation of polyploid giant cancer cells N Niu, I Mercado-Uribe and J Liu
Oncogene advance online publication 24 April 2017; doi: 10.1038/onc.2017.72
Deposition of Triglyceride on Soft Contact Lenses from Lipid-Containing Artificial Tears Atiporn Thuangtong, M.D., Daroonporn Lertpongparkpoom, M.D., Chatchawan Srisawat, M.D., Ph.D., Sarawut Junnu, B.Sc., Busadee Pratumvinit, M.D.
Siriraj Med J 2016;68:241-246 E-journal: http://www.tci-thaijo.org/index.php/sirirajmedj
Altered Gelidium elegans Extract-stimulated Beige-like Phenotype Attenuates Adipogenesis in 3T3-L1 Cells Jia Choi, Kui-Jin Kim, Eun-Jeong Koh, Boo-Yong Lee
Journal of Food and Nutrition Research
Vol. 4, No. 7, 2016, pp 448-453. doi: 10.12691/jfnr-4-7-6 | Research Article
6-Gingerol Suppresses Adipocyte-Derived Mediators of Inflammation In Vitro and in High-Fat Diet-Induced Obese Zebra Fish Planta Med Jia Choi, Kui-Jin Kim, Byung-Hak Kim, Eun-Jeong Koh, Min-Jung Seo, Boo-Yong Lee
DOI: 10.1055/s-0042-112371
Reduced expression of collagen VI alpha 3 (COL6A3) confers resistance to inflammation‐induced MCP1 expression in adipocytes Stephane Gesta, Kalyani Guntur, Ishita Deb Majumdar, Syamala Akella, Vivek K. Vishnudas, Rangaprasad Sarangarajan and Niven R. Narain
DOI: 10.1002/oby.21565
Mouse strains to study cold-inducible beige progenitors and beige adipocyte formation and function Daniel C. Berry, Yuwei Jiang & Jonathan M. Graff
Nature Communications 7, Article number: 10184 doi:10.1038/ncomms10184
Hypolipidemic and Hepatic Steatosis Preventing Activities of the Wood Ear Medicinal Mushroom Auricularia auricula-judae (Higher Basidiomycetes) Ethanol Extract In Vivoand In Vitro Md.Ahsanur Reza,Md. Akil Hossain, Dereje Damte, Woo-Sik Jo, Walter H. Hsu, Seung-Chun Park
International Journal of Medicinal Mushrooms > Volume 17, 2015 Issue 8 - Active
LipiD-QuanT: A Novel Method to Quantify Lipid Accumulation in Live Cells Hilal Varinli, Megan J. Osmond-McLeod, Peter L. Molloy and Pascal Vallotton
doi: 10.1194/jlr.D059758The Journal of Lipid Research,jlr.D059758.
Cocoa polyphenols treatment ameliorates visceral obesity by reduction lipogenesis and promoting fatty acid oxidation genes in obese rats through interfering with AMPK pathway Faisal Ali, Amin Ismail, Norhaizan Mohd Esa, andChong Pei Pei
DOI: 10.1002/ejlt.201400581, European Journal of Lipid Science and Technology
Dieckol, a major phlorotannin in Ecklonia cava, suppresses lipid accumulation in the adipocytes of high-fat diet-fed zebrafish and mice: Inhibition of early adipogenesis via cell cycle arrest and AMPKa activation Hyeon-Son Choi,Hui-Jeon Jeon, Ok-Hwan Lee and Boo-Yong Lee
DOI: 10.1002/mnfr.201500021, Molecular Nutrition and Food Research
Effect of Ceramide on Mesenchymal Stem Cell Differentiation Toward Adipocytes. F. Xu, C. C. Yang, C. Gomillion and K. J. Burg Appl Biochem Biotechnol. 2009.
Inhibition of Histone Deacetylase Activity by Valproic Acid Blocks Adipogenesis. Diane C. Lagace and Mark W. Nachtigal J. Biol. Chem., Apr 2004; 279: 18851 - 18860.
Recent Publications: TG-1-NC
View
.PDF
A Growth Hormone-Releasing Peptide Promotes Mitochondrial Biogenesis and a Fat Burning-Like Phenotype through Scavenger Receptor CD36 in White Adipocytes. Amélie Rodrigue-Way, Annie Demers, Huy Ong, and André Tremblay, Endocrinology, Mar 2007; 148: 1009 - 1018.
Beta,beta-carotene decreases peroxisome proliferator receptor gamma activity and reduces lipid storage capacity of adipocytes in a beta,beta-carotene oxygenase 1-dependent manner. Lobo, G.P.; Amengual, J.; Li, H.N.; Golczak, M.; Bonet, M.L.; Palczewski, K.; von Lintig, J. J. Biol. Chem. 2010, 285, 27891-27899.
Chemically distinct HDAC inhibitors prevent adipose conversion of subcutaneous human white preadipocytes at an early stage of the differentiation program. Catalioto, Rose-Marie, Maggi, Carlo Alberto, & Giuliani, Sandro 2009. Experimental cell research; 315: 3267-3280.
Expression of apolipoprotein C-IV is regulated by Ku antigen/peroxisome proliferator-activated receptor gamma complex and correlates with liver steatosis. Kim, Eun, Li, Ke, Lieu, Charmiane, Tong, Shuping, Kawai, Shigenobu, Fukutomi, Takayoshi, et al. 2008. Journal of hepatology; 49: 787-798.
Identification of MicroRNAs that control lipid droplet formation and growth in hepatocytes via high-content screening. Whittaker, Ross, Loy, Patricia A, Sisman, Eugene, Suyama, Eigo, Aza-Blanc, Pedro, Ingermanson, Randall S, et al. 2010. Journal of biomolecular screening : the official journal of the Society for Biomolecular Screening; 15: 798-805.
In vitro interaction between mouse breast cancer cells and mouse mesenchymal stem cells during adipocyte differentiation. Xu, Feng, Gomillion, Cheryl, Maxson, Scott, & Burg, Karen J L 2009. Journal of tissue engineering and regenerative medicine; 3: 338-347.
Knockdown of FABP5 mRNA decreases cellular cholesterol levels and results in decreased apoB100 secretion and triglyceride accumulation in ARPE-19 cells. Wu, Tinghuai, Tian, Jane, Cutler, Roy G, Telljohann, Richard S, Bernlohr, David A, Mattson, Mark P, et al. 2010. Laboratory investigation; a journal of technical methods and pathology; 90: 906-914.
Mechanisms involved in the cytotoxic and cytoprotective actions of saturated versus monounsaturated long-chain fatty acids in pancreatic β-cells. Eleftheria Diakogiannaki, Shalinee Dhayal, Caroline E Childs, Philip C Calder, Hannah J Welters, and Noel G Morgan J. Endocrinol., Aug 2007; 194: 283 - 291.
Quantification of lipid droplets and associated proteins in cellular models of obesity via high-content/high-throughput microscopy and automated image analysis. McDonough, Patrick M, Agustin, Ramses M, Ingermanson, Randall S, Loy, Patricia A, Buehrer, Benjamin M, Nicoll, James B, et al. 2009. Assay and drug development technologies; 7: 440-460.
Repression of cellular retinoic acid-binding protein II during adipocyte differentiation. Berry, Daniel C, Soltanian, Hooman, & Noy, Noa 2010. The Journal of biological chemistry; 285: 15324-15332.