ZenComplete™: Mitochondrial Mass Assay
ZenBio offers a cell-based high throughput assay to determine mitochondrial function by measuring mitochondrial mass using High-content image analysis. Cell-based analysis is generated from fluorescently labeled mitochondria using primary cells or cell lines treated with MitoTracker dyes. This customizable platform can be performed on live or fixed cells and offers the capability to be multiplexed with immunostaining or other fluorescent assays. Our Thermo ArrayScan XTI High Content Imager offers state-of-the-art image acquisition and data analysis of cells cultured in various culturing formats from coverslips to 384 well plates.

Description: High throughput cell-based assay for measuring mitochondrial mass.

Assay: MitoTracker® Dye (Green 488, Red 549 or Far Red 650)


Format: 96-well plates (customizable formats available)
Measurement: High Content Image analysis
Cells: Primary cells and cell lines; adipocytes, skeletal muscle cells, hepatocytes, neurons etc.

Characteristically, as pre-adipocytes differentiate into mature adipocytes, mitochondrial mass increases to accommodate the extra energy demands required to generate lipids. The following example uses ZenBio's human primary cultured pre-adipocytes (cat# SP-F-SL) that were matured into lipid producing adipocytes using ZenBio's differentiation media (cat# DM-2). Our Thermo ArrayScan High content imager rapidly collects high resolution images from each well in a 96 well allowing visual comparison of mitochondria labeled with MitoTracker (Figure 1). Image analysis of multiple images from multiple replicates of each condition quantifies changes in mitochondrial mass and volume (Figure 2).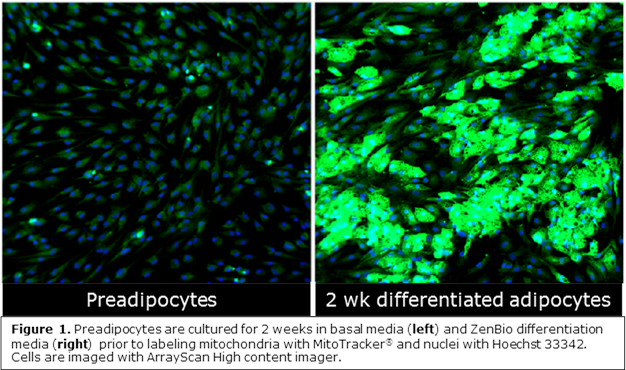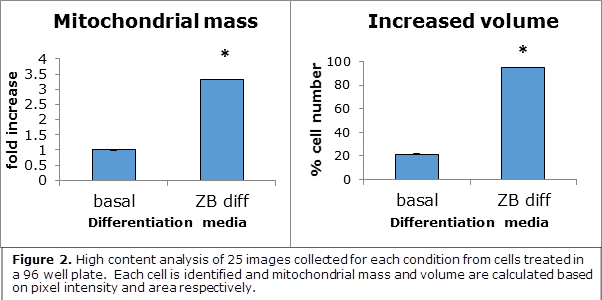 ZenComplete™: Mitochondrial Mass Assay
| Item# | Item Desc | U/M | Price |
| --- | --- | --- | --- |
| CA-10 | Mitochondrial Mass Assay | Assay | Contact Us |
Prices for contract services vary depending on number of sample numbers, special conditions, compound solubility, etc. Minimum charges will apply. Please contact us for detailed information and a price quote on your project.
To learn more about our services, please contact our Services Team